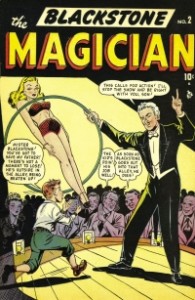 Looking at old issues of comics one of the striking things is the price. Back then comics ran at 10 cents an issue, compared to roughly four dollars now (although some companies currently are trying to hold at three dollars a comic).
Blackstone Sr. the Magician was featured prominently in a number of comics, many bearing his name, from 1942- 1948, when they cost that magical price of 10 cents an issue.
Blackstone was presented as magician detective, a super magician, and a master magician. It was interesting to see he offered a teach a trick section in the few issues of Master Magician that ran in 1946.
Due to the old nature of the issues not much is know about the contents, a cover gallery can be found HERE.
The comic series was instrumental in seeing a radio program launch in late 1948 and run for a few years.
Those episodes are archived here, but use actors and not Blackstone himself in them. Radio Archive
This magician stands out as having the most comic appearances to date, and as one of the few to headline his own comic book.