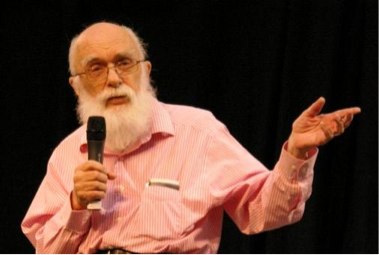 While I (your editor Justin Robert Young) was still a student, James Randi came to speak at South Plantation High School. His James Randi Educational Foundation was, and still is, headquartered 15 minutes from the campus so the trip was an easy one. The event helped shape my life.
There was the legendary charm and ease that Randi can deliver a message and capture a crowd. Even for an auditorium of impatient students, his talk on critical thinking was clear and compelling. That introduction led to my continued interest and participation in the JREF as an organization and the skeptic movement in general. I've been lucky enough to meet so many amazing, brilliant people since as so many others have. His Amazing Meetings alone in Las Vegas have consistently ballooned in attendance as more and more make the annual trek to hear brilliant speakers, reunite with friends or meet new likeminded folks.
More specifically, it was through the JREF that I first met Andrew Mayne who later gave me the opportunity to meet all of you by publishing iTricks and asking me to write it. So quite plainly, if there was no James Randi, I could not be writing this tribute to James Randi on this website. Meta.
Randi turned 83 this weekend. In honor of that we proudly remind you of our 2008 podcast interview series The Amazing Show if you'd like to indulge yourself in the expertly told stories of a truly hilarious and amazing icon.
Happy birthday, Mr. Randi.