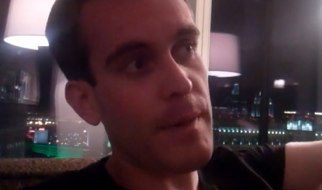 In what will surely become a rallying cry for Angel haters and taken as a declaration of war by Camp Criss and his army of Loyals, we introduce Paul Carr's 12-minute video review of Criss Angel Believe.
Due to some foul language we can't embed the video here. So go ahead and click through to Paul's blog to view it.
It's about as brutal of a reaction as we've seen or read since the early days of the show when every and any one tee'd off on the wayward Cirque collaboration. It's also in marked difference to the newer slew of reviews which indicated the show had greatly improved.
What seems to be a consistent sticking point through write-ups good and bad is Angel humor. At it's best ribald and worst spine-rattlingly creepy, gags featuring Criss and female audience members have often been singled out by critics haranguing Angel for his stage presence and patter.
To those asking why we are running a bad review of a show now. We can explain:
Criss, as he has been for the entirety of this site's existence is the most debated figure in magic, which has spilled out into mainstream. It's a feat only a handful of magicians, probably under 10, have ever accomplished. Thus, a review like this will be sought after and viewed hundreds (if not thousands) of times within the magic community alone.
Carr will likely be dismissed as a man with a grudge or someone who doesn't get it by Angel fans. He'll be sainted by those who hate Criss. Either are probably true, but both are the pretexts for why you're watching.