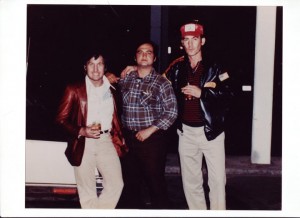 This was just too awesome not to post. Johnathan Pendragon sharing a drink with comedy legend John Belushi and cultural icon Hunter S. Thompson.
Here is the scoop on the picture from the man himself:
I was stunt coordinator on Continental Divide, credited under the name I used as a stunt man, "Jonathan Yarbrough." The picture was taken on location in Colorado, and later we went to Hunter's house and blew up beer bottles with a Thompson submachine gun — not an experience you tend to forget!
Thanks to Johnathan for allowing us to put this up on iTricks.