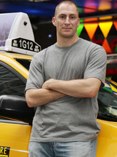 Dodd at the Magic Newswire reports that Lance Burton's episode of Cash Cab will air a week from today (Monday, August 5th 9th) between 7 p.m. and 8:30 p.m. as part of three Las Vegas specials. Set your DVRs accordingly.
For those that aren't familiar with the set up of the show, a seemingly random cab picks you up only for it to light up like a Christmas tree and reveal itself as a rolling quiz show. If you answer incorrectly too many times, you are dropped off somewhere between your starting point and destination. If you keep answering correctly by the time you get to where you are going, you win.
We could have sworn that Penn and Teller recorded a Cash Cab cameo as well, but can't find any record of it.