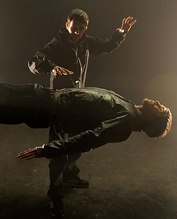 In support of the new Sorcerer's Apprentice film, Dynamo has teamed up with The Sun newspaper to search for a protege he can teach some tricks to, so they can perform at a preview screening attended by the stars of the film.
We're looking for a youngster aged 8-16 to join Dynamo – with a parent or guardian – in London on Monday, August 2.
They'll spend the day with him learning one of his top-secret magic tricks.

And that afternoon they'll perform the spectacular illusion with Dynamo in front of a live audience at an exclusive preview screening of the film, alongside the film's star JAY BARUCHEL and their friends and family.

We'll treat the winner and their family to return travel from within the UK to London and a night's stay in a London hotel.
C'mon, there have to be a few UK iTricks readers that qualify. Get on it!