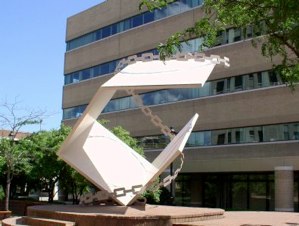 Some news for Houdini fans, an abstract sculpture created in honor of the most famous magician of all time is set to be removed and put into storage, at least for a few months while renovations take place.
"Metamorphosis," donated to the city by Boldt Development Corp., will be put into storage sometime in the next month for at least a few months as the 1-acre plaza is reworked.

"We don't know specifically when it is going to be moved, but we would like to have it removed by the time the downtown farm market begins in the middle of June," Parks and Recreation Director Bill Lecker said.

"Metamorphosis" sits atop a red-brick platform that resembles a stage. The abstract metal box is balanced on the point of one of its corners and draped with a padlocked chain. The Richard C. Wolter sculpture, a tribute to illusionist Harry Houdini's famous trick in which he escaped from a chain-bound trunk, stands more than 14 feet tall and weighs about 4.5 tons. The plaza marks where Houdini's childhood home once stood.
The final decision on where the Houdini sculpture will be placed rests with Appleton Downtown Inc. If you would like to make your opinion known on the subject, email them with this form.
Or you can call them at: 920-954-9112
Or you can send them a strongly worded letter at:
16 N. Appleton Street
P.O. Box 2272
Appleton, WI 54912-2272
Remember folks, the statue NEEDS to be removed so it is not damaged during renovation construction. We just want it to be prominently placed when it is reinstalled. So when you contact these folks BE POLITE.