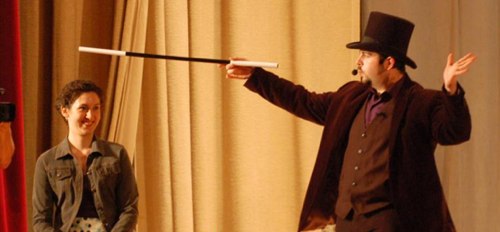 Jordan Goldklang a.k.a. The Great Jordini just completed is final. Unlike every other college student in the world, a good grade on this project will net him a BA in magic.
One volunteer was Karen. Goldklang asked her to write her name and date on a card she picked from the deck.

When she put it back, Goldklang asked her about her card.

"Karen, look at the ceiling," he said. "Do you see your card there? "

"No," she replied.

Goldklang laughed. "Yeah, that would have been amazing."

But then Goldklang threw the deck of cards at the ceiling, and Karen's card stuck. The audience could see Karen's writing on it, showing the card belonged to her.

The audience erupted in applause.
Congrats to Jordan, sounds like everything went well.