SPONSORED POST
Did you guys miss the big event on Friday May the 7th at Exomagic.com's chat room? Exomagic is proud to have partnered with William Draven to launch the websites new line of product reviews which will be updated with a new review every Friday. Reviews will be not only posted on ExoMagic's forums, but on iTricks, Ellusionist, theory11, TheMagicNetwork and Penguin Magic.
Don't miss your chance at our DEAL of the day either, check out today's!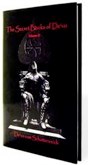 DE'VO'S SECRET BOOKS VOL. 2 by De'vo vom Schattenreich
Was: $85
Special Price: $60
29% OFF!
Looking for some new killer products?
* Restless by Dan Hauss Vol. 1-3 (Save 10% when you buy all 3 volumes using coupon code "hauss")
* Rune's World: The Magic of Rune Klan
* Close Up The Real Secrets of Magic Autographed by David Stone
* Essential Magic Conference pass registration (Get 2 free Bicycle 125 edition decks when you order today!)
* Bicycle Red Dragon Playing Cards
* White Raider Playing Cards
Have questions about something? No problem! Join our video-chat now! From pro's to amateurs, you can collaborate with real magicians with just 1 click. Our friendly staff, from ExoMagic, is in the chat if anyone has questions about the store or specific products.

Always welcoming new visitors, looking forward to seeing you all over at ExoMagic!
SPONSORED POST