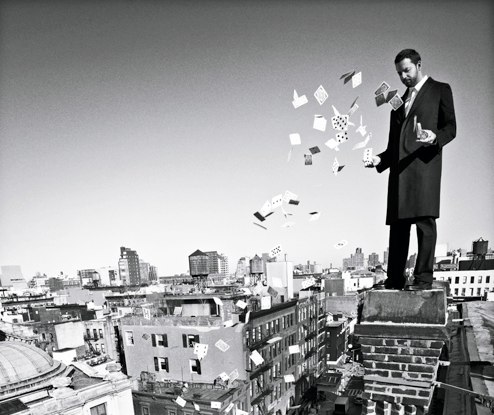 Interview Magazine has a great feature on David Blaine, including some sweet photos, but the juiciest tidbit comes before the end of the first page…
With these various feats, Blaine has revolutionized the contemporary world of magic, redefining the magician's work as something more internal than supernatural—as about battles of will as well as tricks of the eye. The shark swim is just Blaine's latest project as he prepares to cross the ocean next summer in a glass bottle.
Bold was added.
Could this be the stunt to accompany Blaine's 2011 special, the one he said would be his last at Magic-Con?
Although we've heard db's decision making when it comes to the stunts and specials is "fluid" to say the least, one might wonder: how television friendly is a man floating across the sea in a glass bottle? How long might it take? Will he be able to tweet? How rank is that thing going to smell by the time he hits land?
Get the money quote from Blaine himself AFTER THE JUMP…

KIMMEL: On the subject of pushing limits, without giving it all away, what are you working on next?

BLAINE: It started because I had a dream one night that I was in a life-size bottle in the middle of the ocean. That's where it started, and now I'm trying to work out how to make that into a physical reality—into a real physical feat.