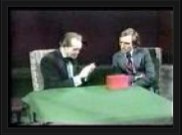 Most weekdays we have one of our iTricks.TV Staff members select one of the recently uploaded videos, post it here on the front page and explain why it's awesome.
Click the thumbnail to see today's video amongst the luxurious number of other magic clips.
Today, the staff member is Nick and the video is

Paper Balls…
"Here, Tony Slydini performs his famous Paper Ball routine. His self taught sleight of hand creats magic that is beautifully done. This video comes with two added bonuses. Enjoy!"
This video is only one of nearly 2,000 available at the newly revamped iTricks.TV.