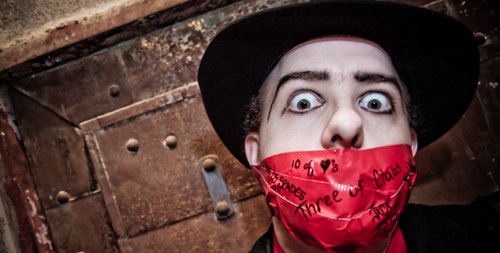 We are introducing a new feature here at iTricks. Each week we are rotating in columns from leading edge thinkers, creators and practitioners in our industry. Today's voice is Bizzaro, The Optical Illusionist
This is something that has been swimming around in my melon for about a month now. I have seen many a magic show where the powers that be didn't have enough forethought to ask if any of the performers on the bill were going to be doing any of the same type of magical effects. This way there won't be too many rope tricks, or three people doing linking rings.
Sadly this happens, but I can tell you one way to come out on top of this when such an event occurs: Just be better than the rest.
Find the rest AFTER THE JUMPDon't settle for some stock presentation that came with the instructions. Nay! Strive to find something that sets you apart from the rest of the herd. Your goal shouldn't just extend to being good at it… but being the BEST anyone has ever seen. Take some stock or crap effect like candle thru arm and present it in the most bad-ass way possible you can. Do it in such a way so magicians and non-magicians come up to you and say "That is the best version of (insert trick here) I have ever seen!" At this point you will know that you have truly accomplished something you can be proud of.
Of course your efforts will be paid off by having some asshats come along and try to steal your idea (or in that rare occurrence, want to buy it off of you so THEY can do it and take credit for your hard work and headmeats). The only way you can effectively circumnavigate this silliness is to interject as much of you as possible into the routine so they will look awkward or silly trying to present it the same way you do. Make it so much a part of your style that other performers will just look at it and realize there is no HOPE for them lifting it from you.
A friend of mine in Texas and myself often speak of how you don't have to be the best they have ever seen, just the first. However, if your performance truly is the best and it fits you like a perfectly sized contraceptive, then you can blow anyone away no matter when they see it.
Be all you can be baby!