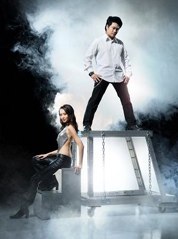 That wily Derren Brown has ignited big-time lottery prediction fever the world over. JC Sum and Magic Babe Ning have dominated Singapore's magic scene over the last year and their new stunt will likely serve to extend that reign.
For the first time in Singapore's history, J C Sum and Magic Babe Ning will be attempting to predict the 4D lottery on 27 Jan 2010, Wed, 630pm live.

In a nutshell, we will sealing our prediction (actual 4D ticket) on 22 Jan
2010, 830pm. The prediction will be in a red packet that will be encased in
2 plexi-glass boxes. The boxes will be suspended high at the main lobby
(outside) of St James Power Station (A club in Singapore) 24/7 till the
reveal date on 27 Jan.
Thanks to the folks at Red Dot Magic for sending us this info.
Anyone in Singapore want to help us get pictures of the event? Email iTricksStaff@Gmail.