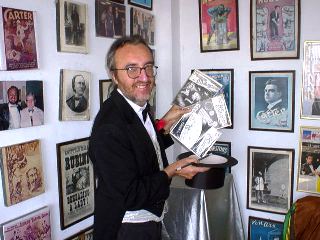 There is an old building deep downtown in São Paulo – Brazil which seems just like any other until you first cross its doors, which are always open on the friendliest aspect of the term, to find a myriad of ventriloquist dummies, age old magic props, costumes and antique posters.
And of course, the always smiling Mr. Basart to guide you through the mysteries of this place. Somewhat hidden within the city, is the Museu de Arte Mágica e Ilusionismo João Peixoto dos Santos (João Peixoto dos Santos Magical Arts and Illusionism Museum), whose archives feature nearly everything related to magic. Rings, Wands, Tuxedos, Top Hats and, of course, Playing Cards (Over 600 different decks!), has articles from approximately 78 different countries. Once you first enter, you'll be warmly welcomed by Mr. Basart, known as a living legend on the Brazilian magician's community. He'll tell you stories about the "Golden Age of Magic", as he likes to say, about how Dai Vernon turned out to be a good friend of his and their last jam at the Magic Castle, months before Vernon's "escape from the material world" at the age of 99.
FIND THE REST AFTER THE JUMP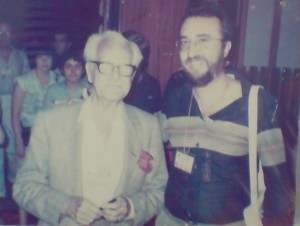 Not only that, but the very friendly and always smiling Basilio Artero Sanchez, best known as Mr. Basart, will gladly show you as much as you wish of the more than 200 original Vintage Posters, 500 Props that date back to the 18th Century, countless pictures of many famous magicians, newspapers, certificates, awards, trophies as well as a section dedicated to the art of Ventriloquism.
This man is a live encyclopedia on both subjects of Magic and Ventriloquism, both of which he still performs with love and passion, although he is retired from performing professionally. Some of his personal favorites, which he keeps on a separate room, include a set of Linking Rings given him by Richard Ross, silks that were used by Fu Manchu and hand painted by Fu's wife, a letter from David Copperfield and a business card of no one less than Houdini.
Magicians that retire often donate part of their stuff to the museum, in order to keep their histories preserved.  Some even donate clothes, and among the most famed ones, the museum includes the tux worn by Vik, from the Vik & Fabrini duo (Headliners of the Crazy Horse Casino in Paris) during their Gold Medal Performance at the FISM in 1988
Vik & Fabrini – The first Brazillians to achieve 1st Place at FISM (Youtube)
This is an obligatory place to go for anyone who happens to visit São Paulo and is interested in Magic, Ventriloquism and or likes to hear fun stories about those subjects from a person that knows them best and is always willing share knowledge and teach you more about our beloved art.
The museum is named after the first and one of the most prolific writers on the subject of magic in Brazil. Peixoto's first published works date from the year of 1916, and two years later he was the founder of the first Association of Magicians in Brazil, whose activities included publicly debunking charlatans that would claim to possess psychic powers, inspired on Harry Houdini's similar efforts.
Coming to São Paulo anytime soon? Make Mr. Basart a visit and tell him I sent you for a free soda. It is located at the following address:
Museu de Arte Mágica e Ilusionismo João Peixoto dos Santos
Rua Silva Bueno, 511, Ipiranga – São Paulo / SP
Visits must be scheduled by calling (+55) (11) 2068-7000 or (+55) (11) 2061-7373 and are free of charge, though donations are encouraged.
–
Fábio De'Rose is a professional magician and consultant from Italy, living in Brazil since the age of 3. You can contact him at his website www.enigmagico.com.br and on Twitter @Enigmagico.