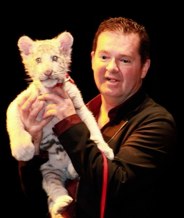 Dirk Arthur talked to Doug Elfman of the Las Vegas Review-Journal about raising big cats for his show at the Tropicana. It was all while he brought his new cub Saber to see a group of 430 kids at the Hebrew academy in Las Vegas yesterday.
So just in case you ever wondered what a 10-week-old tiger cub eats, here you go.
Q: What does Saber eat?

A: Three or 4 pounds of raw meat each day. Now he's on ground turkey and vitamin supplements for a high potency calcium diet."

Q: Do his big cats play with catnip?

A: "Some people do give the big cats catnip. I've never had luck with it."
Arthur plays at the Tropicana everyday except Sunday and Monday.
PHOTO CREDIT: Doug Elfman / Las Vegas Review-Journal