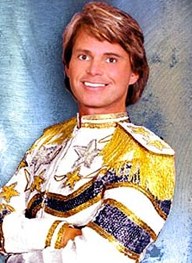 Kirby VanBurch says it was a member of his staff that posted a letter from the International Magicians Society stripping Bambi VanBurch of her Merlin awards on BambiVanBurch.com.
The letter rescinded awards for Female Illusionist of the Year in 2008 and 2009 and claimed she is fraudulently advertising herself as Female Illusionist of the Year for 2009 and Female Illusionist of the Decade. Today, iTricks posted pictures from Bambi of a Merlin award reading "Female Illusionist of the Decade" which she says she received this summer.
Kirby tells iTricks that the letter is indeed genuine and it was a member of his show crew that posted it on BambiVanBurch.com, which was on Kirby's server. The crew member, whom he did not name, was upset with Bambi after the breaking up of the VanBurch act and marriage left Kirby unable to make payroll for two months, he said.
After he became aware of the posting, he asked his staff to pull it down, Kirby said. However, it was not removed until Bambi took control of the site earlier this week.
"The IMS contacted Bambi with concerns she was using other people's material. She was aware, she continued using them," Kirby said. "This is the result of her action. This is embarrassing for all of us and I'm more embarrassed than she is."
As for the pictures posted on iTricks earlier today, Kirby claimed it was impossible for her to have received those awards and that either the award itself or the picture must be doctored. He said he initially implored IMS CEO Tony Hassini to grant Bambi the Female Magician of the Decade but was turned down.
Yesterday, iTricks received a letter dated February 12, 2009 signed and sealed by Hassini congratulating Bambi on her awards for 2007, 2008, 2009 and Female Magician of the Decade. The letter is addressed to Kirby.
When read excerpts of the letter on the phone, Kirby said he'd never seen the letter and questioned its legitimacy as well.