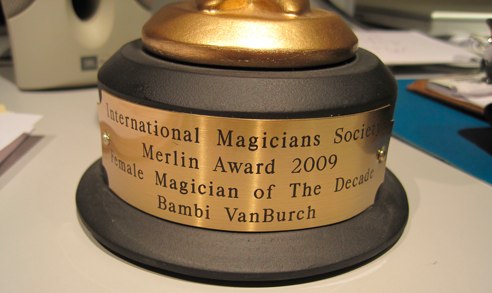 Here is a bizarre coda to the Bambi VanBurch story from yesterday. According to the letter from the IMS which appeared on her site earlier this week, Bambi is fraudulently claiming she was awarded the Merlin for Female Magician of the Decade.
Oddly enough, this is a picture sent to us by Bambi of what very much appears to be a Merlin award for Female Magician of the Decade with her name on it. We also received a signed and sealed letter from Tony Hassini officially bestowing Bambi with "the highest honor ever to be received by a female magician" dated February 12th of this year.
A full pic of the award is AFTER THE JUMP.