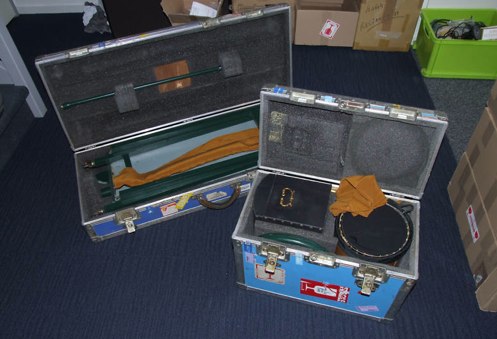 Above is a picture of Tommy Wonder's Floating Bird Cage act. It is currently on the metaphorical block, at eBay. At the time of this writing with a little over three days remaining, the bidding has reached over $8,500 and we'd be surprised if it didn't at least cross into five figures by the time the final offer is made.
We found this listing (thanks to our Weekend Warrior Andrew Webb) at the Genii Forum where head honcho Richard Kaufman had this to say.
I can't believe that Tommy's entire stage act is for sale on eBay. How sad. I also think it's a mistake to simply sell it to the highest bidder. It should be sold to someone who really cares about it and will possibly perform it–not someone who will just keep it in boxes.
Included in the Bird Cage auction are boots and green jacket. But that's not all, the Floating Bird Cage is only the most popular item of Tommy Wonder's now for sale on eBay. Click here to find listings for his Bronze Head, Bowling Ball Trick, a coin trick and a coin and shell trick.
What do you folks think? Sad? Great opportunity? Get your bids in and then discuss in the comments thread.