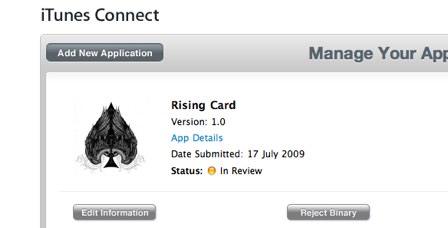 Are magic apps the next genre of iPhone and iPod Touch programs under harsh scrutiny by Apple? One major magic production house has recently dealt with extended delays and possible rejection in the approval process and another has decided to release theirs outside the App Store sandbox.
Although an undeniable cornucopia of mobile fun, the App Store has run into its share of controversy in the last month. Dictionaries and Google Voice applications have been rejected and removed, with developers up in arms over the unpredictable and many times contradictory approval process.
After announcing its imminent release, theory11 has waited nearly a month for approval of Chris Kenner's Rising Card app. During that time Apple requested further information after they considered the method behind the effect a possible violation of their guidelines.
In response, theory11 CEO Jonathan Bayme told iTricks that magic relies on things that aren't what they appear, Apple wrongly considers that "possible consumer confusion."
He described the entire process:
As of now, we've had the app submitted for over a month – the app has been completed for over a month and a half – and we're no closer to release than we were then. The first week or so was manageable, but at this point – it's entering the realm of ridiculous. The latest update from our side is that Chris Kenner (creator of this app) called our representative at Apple from the David Copperfield tour in Australia late last night, and we are awaiting word back.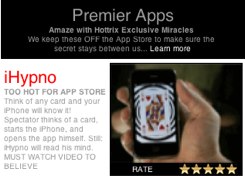 Meanwhile, Hottrix, the makers of top selling novelty apps including iBeer have opted to sell a new line of magic effects entitled "Premier Apps" directly from their website and outside of the App Store. Thanks to a new process, their new app iHypno (which they advertise as "too hot for app store") downloads directly to your home screen without syncing through iTunes or jailbreaking.
It also solves the approval headache while giving magicians who purchase the effect something in their iPhone arsenal that won't be listed amongst the other magic apps.
Both iHypno and theory11's Rising Card utilize similar techniques in different points in the effect that Apple is currently considering a cause of "possible consumer confusion." Bayme said that should Apple ultimately reject their app, they'd consider selling it outside of iTunes.
In the meantime, they will wait, however impatiently.
"They might think that they're protecting against possible consumer confusion but in the meanwhile they're causing definite merchant angst," added Bayme.