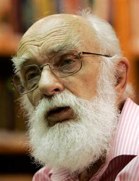 Today, we offer a hearty happy birthday to a legend in magic and beyond, "The Amazing" James Randi.
Escape artist, magician and most notably a leading critical thinker and skeptic advocate. He also knows everyone on the planet, which we talked about a lot on the podcast series we produced for him.
However, this birthday is different. As Randi publicly announced at his The Amazing Meeting conference last month and posted on his website yesterday, he is currently undergoing medical treatment for "a most unwelcome guest."
We implore the magic community to flood Randi with well wishes today, not only for another birthday milestone reached but also to let him know that his complete and speedy recovery is in your hopes and prayers. Actually, let's just stick with hopes.