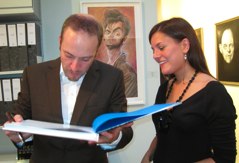 Derren Brown's new coffee table compilation of his wonderful celebrity portraits is now officially in the wild after a book release party last night in London's SoHo district. Derren himself talks about the gathering on his official blog.
The party took place at the Rebecca Hossack Gallery where the original paintings will be in exhibition for the next two weeks.
It's never to early to start Christmas shopping for the Derren Brown fanatic in your life, so here is a link in case you're interested in snagging one.
Credit for this particular photo goest to Between-The-Lines.co.uk. Thanks to Weekend Czar Andrew Webb for the tip.