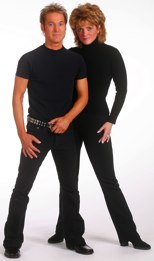 Congratulations to Kevin and Cindy Spencer as they have been awarded the Merlin for Magicians of the Year.
LYNCHBURG, VA (July 2009) – World-renown illusionists Kevin and Cindy Spencer (The Spencers) have been recognized as the 2009 MAGICIANS OF THE YEAR by the International Magicians Society. This is the top honor given by the organization.

The Merlin Award is presented annually in several categories by the IMS, the largest magic organization in the world with more than 37,000 members. Magician of the Year is the pinnacle recognition and has been bestowed upon on a select group of performers including David Copperfield, Doug Henning, Penn & Teller, Siegfried & Roy, and Criss Angel.
Another year, another list of Magicians of the Year.