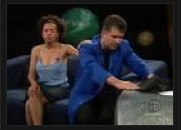 Most weekdays we have one of our iTricks.TV Staff members select one of the recently uploaded videos, post it here on the front page and explain why it's awesome.
Click the thumbnail to see today's video amongst the luxurious number of other magic clips.
Today, the staff member is Dezrah and the video is

Banachek Rocks Martin Sargent…
"Here's an oldie but goodie in honor of the upcoming release of Banachek's "Psychological Subtleties 3″. Banachek visits the set of Martin Sargeant's "Unscrewed" from Tech TV and reads co-host Laura Swisher's mind."
This video is only one of nearly 2,000 available at the newly revamped iTricks.TV.
If you have a video you want to see on iTricks.TV, make sure to send it to MagicVideos@iTricks.com. Keep your eye on iTricks.TV for our constantly updated feed.