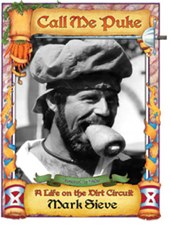 Matt Sieve, is one half of the longest running comedy duo in America. Better known to audiences as Puke and Snot (Sieve=Puke) the two have played the Renaissance Festival circuit for decades while producing four comedy CDs and a movie script about their lives in the process.
They even played host to an up and coming duo by the names of Penn & Teller when they all were working a Ren Fest in Minnesota. Quoth Teller…
To someone like me, who had come up in magic with the idea that tricks and visual effects were the show and the performer was just the delivery system, Puke & Snot were startling. Their show wasn't about what they did. It was about who they were.
Sieve has a new book out entitled "Call Me Puke: A Life on the Dirt Circuit."