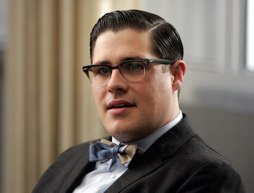 Mark another notch in the massive wall keeping track of the reason Penn Jillette is better than you. He hangs out with actors from Mad Men.
This came through on his Twitter this weekend.
"Mad Man" Rich Sommer came to the show with a friend. We hung out after the show for 2 hours. It's rare I love talking to a SAG member.
Sommer plays the nebbish, Sci Fi lover Harry Crane on the impeccable AMC drama. He rules.