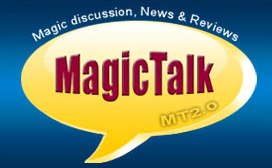 90's discussion forum Magic Talk is back as the rebranded MT2.0. This time, the revived message board is being run by the troika of Paul Draper, John Pyka and Ron Jaxon. According to the mission statement on the front page of the site, the changing of the guard is explained.
A few weeks ago, I got a message from an "MT Original" on Facebook. He was remembering some of the great times we had there, and said 'I wish we could have MagicTalk back,' and I thought to myself 'Why can't we?' Long story short, I contacted Bryan Toder the owner of MagicTalk and proposed a revival. Sensing the time was right, Bryan has agreed to let me revive MagicTalk!"
Visit, chat, be merry. Best of luck to all the guys behind the reboot.