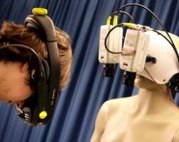 I'm sure we could brain storm a few ideas on how to use something like this. According to the Times Online, a combination of visual stimulus was enough to force subjects to believe that their body was a mannequin across the room. So when they physically interacted with it, they reported feelings of an out-of-body experience.
The effect was so powerful that when a tailor's dummy perceived as a volunteer's body was threatened with a knife, he or she would experience physiological signs of stress, such as increased sweating and skin conductance.

It was also possible to induce people to swap bodies with a real person. When the two then shook hands, some participants claimed it felt like "shaking hands with myself".
Crazy.