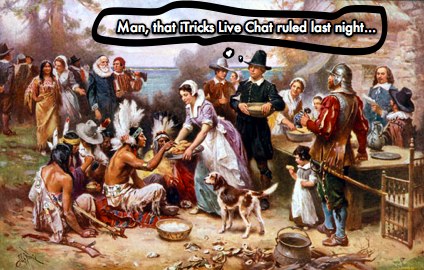 And lo, during the Mayflower's treacherous journey to The New Land, the Pilgrim elders gathered and made a compact with their God. Unknown until this very post is this fact: in that compact was a small proviso stipulating that in the year 2008 the night before the holiday which will come to be known as "Thanksgiving," a magic blog will stream a live chat where all manner of unpredictable awesomeness will ensue*.
Strap on your tall hats and whip up some maze, we're dusting off the Iron Man mask for a very special Thanksgiving LIVE CHAT! Wednesday at 9 p.m.
For all of our younger readers who complain about us hosting the Live Chats on school nights. Worry no more! Kick off your holiday weekend in style!
For those who have missed our other chats, along with getting to commune with other awesome iTricks readers the real treat to these is the guests. Trust us when we say: DO. NOT. MISS. IT.
Wednesday! 9 p.m. EST! Right HERE on iTricks!
*90% of this paragraph is made up