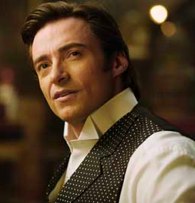 We've told you previously that there will be a Houdini musical on Broadway in 2010. Well now we know who Houdini will be and his name is Hugh Jackman.
The musically inclined Aussie who first introduced himself to American audiences as the sideburned manimal X-Man Wolverine, is already practicing magic tricks according to Fox News.com gossip reporter Roger Friedman.
Friedman adds that he is being consulted by Ricky Jay although he may reach out to David Blaine and Cirque du Soleil. Of course, the real man to call would be Blaine triggerman William Kalush who wrote a book about Harry.