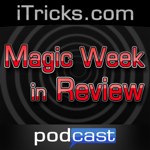 Our guest this week on the Magic Week in Review podcast is Simon Drake. Above is a simple primer for the kind of world-altering awesome that Drake has/does/will continue to bring.
Believe us when we say that this is the most incredible episode of the Magic Week in Review we've recorded in recent memory. So much so that we cut out one of our favorite bits to give you early. This clip will not be in the episode, the only place you'll hear it is right on this post.
Make sure you get the MWiR before everyone else does by subscribing on iTunes.
In the meantime, hear what Simon thought of David Blaine's special, the Christ complex of many TV magicians and even (randomly) Kate Bush.
LISTEN NOW…. CLICK HERE!
Podcast: Play in new window | Download