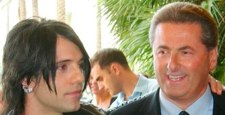 Robin Leach's countdown until the opening of Believe continues today with Luxor President Felix Rappaport chatting about putting on such a big production, how much the previews have helped the show and why Criss was the man to bet on.
As pointed out by one of our astute commenters on the Magic Week in Review, he even backs up Criss in his claim that Believe is the number one selling Cirque show in Vegas.
Believe is averaging higher or equal to all the other Cirque shows here. Cirque never leaves a show alone even when it's up and running — they go on always improving it for the better and the same will be true here."
The improvement of the show since the previews began seems to be one of Rappaport's main points. No word yet on if all of the planned illusions have or will be worked into the show by Friday.