UPDATE: JB from theory11 was interviewed by the Page Six reporter and has a few things to say about it AFTER THE JUMP…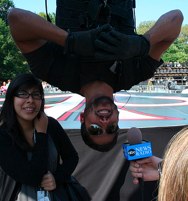 The New York Post's Page Six Magazine gets the gold star today for a revealing bio on David Blaine, post-Dive of Death, including this choice quote…
…he is unhappy with Dive of Death, even calling his dismount a "full disaster. The whole show was spent promoting my final moment, and then it was so underwhelming." David was supposed to jump off the cube and fly over Central Park attached to balloons. Instead, he had to do a minor bungee jump due to wind conditions and was hoisted up slowly by a crane—a banal end to a much-mocked stunt.
The article seems to reveal Blaine at a crossroads of his career. Is he growing tired of his endurance stunts or are they the only thing that drives him? Is he a wild eccentric for whom money is no object or is he a boss who only hires those who won't say "no." Does the mocking get to him or is he content when fans pack thousands deep to see him?
Another notable moment is Brad Christian of Ellusionist saying that a "majority of magicians" think Blaine is a "bit of a joke."
Great work.
Here is JB's email to iTricks about the Page Six article:
Regarding the New York Post – I spoke with her myself at the site for nearly an hour, of which none was in the article. Maybe one of the qualifications to get into the article was talking s—? I didn't think that article was a fair assessment at all. The Drowned Alive record attempt was not a "trick faltering" – because it wasn't a trick. In my mind, not meeting the record at the end of the Drowned Alive special was perhaps more poignant a moment than if he had. It showed humanity. It showed him not giving up. And in defeat, it really did show triumph. And months later, he tore up the record live on Oprah – something pretty bold to do live, given the obvious possibility that it might have ended the same way.
I take the writer at what it's worth in understanding that the conclusion of this stunt didn't go as planned, and was obviously a disappointing end to some viewers. But to discount an hour and 50 minutes of incredible magic and only discuss the final 10 seconds of the special – I think David deserves more respect and credit than that.