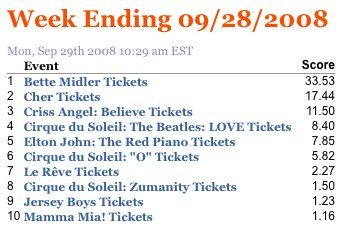 We heard this weekend that Cirque was very excited about the ticket sales for Believe but this should put that in context. Criss Angel is third amongst all shows and within spitting distance of ticket-selling machines Cher and Bette Midler. In terms of the Cirque family, Believe is tops, supplanting the long time front-runner LOVE.
As always, the data comes from Ticket News.com.
Also, we figure we can use that headline now that the Mets will have no use for it until Spring.