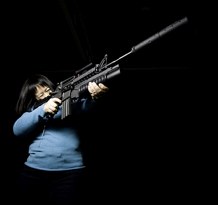 It could be lock and load for the Dive of Death.
At least that's the conclusion reached by Michael Joseph Gross of UK newspaper The Telegraph. The writer spent some time with Blaine this August as he shifted his stunt from a sleep deprivation to his upside down endurance. Although the profile is very well done, the real news bit comes when Gross cobbles together hints (some subtle, some not) on how the mysterious magician plans to end his latest special.
Without prelude, he says, 'I can't believe ABC said they'd let me take a bullet,' then gestures to his plate: 'Do you want a pickle?'
Could this be Blaine misleading the reporter? Stranger things have happened and as Gross points out, DB does have a Machiavelli tattoo. However, this has not been the first time that talk of a bullet catch has leaked out from the Blaine camp.
Back in March, director Harmony Korine mentioned that he had another Blaine project coming up where a marksman would shoot the Brooklyn magician on stage in front of a sold out Madison Square Garden crowd. Korine also filmed Blaine's Above The Below stunt in London.
So… Blaine hangs upside down for three days before someone shoots him in the middle of Central Park. How does that strike everyone?
Thanks to eagle eyed reader Matt for the tip!
PHOTO CREDIT: ttstam