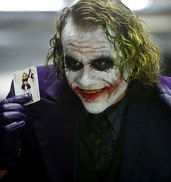 Fact: there are now only eleven people in the Western World who haven't seen The Dark Knight and don't immediately know what we are talking about when we mention the words "Joker" and "pencil" in the same sentence. If you are one of those eleven, please skip to the next post.
However, for the rest of humanity please note that Maxim.com has named the close-up disappearance as the Most WTF Movie Moment From Summer 2008.
Thanks to our own Derek Merdinyan for the tip.