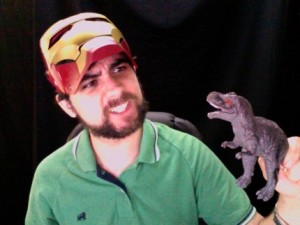 But sweet Georgia Brown if you missed it, you are upset with yourself today.
Big thanks to all the guests who stopped by… Andrew Mayne, Eric DeCamps, Brian Brushwood, Jonny Zavant, Danny Garcia, Doug McKenzie and Jonathan Bayme from theory11 for turning mild mannered chat into a raucous, nearly FOUR HOUR romp which was an incredible surprise.
The Cliff Notes version reads like this: We announced the launch of our new Magic Stars podcast and accidentally debuted both our new Live Chat mascot (the dinosaur) and our new Sexy Hess polo shirt. We engaged in copious magic conversation. All of the guests agreed to do Live Chats of their own and we got the final word on what Blaine plans to do for his December special… which we will report a little later.
Again, if you made it, we love you. If you didn't, well we hope this serves as a VALUABLE lesson.