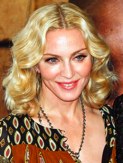 David Blaine provided the the card tricks for Madonna's 50th birthday over the weekend. The event was limited to friends and family according to People Magazine. It was held at London's trendy club Volstead.
Blaine and Madonna are both managed by Guy Oseary who also helped found Madonna's record label Maverick.
No word on if Blaine got his normal $150,000-per-hour rate for walk-around magic.
PHOTO CREDIT: david_shankbone