We first heard from our pal Bizzaro about a few of the geographical liberties taken by the producers of America's Got Talent. Now we've been contacted by another man who was unfortunately placed into the same "worst magicians" montage.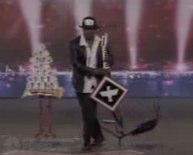 In a nutshell, Dorian claims the following:
• AGT cast comedy magic acts so they could be taken out of context as wackos.
• Two of the acts got standing ovations, which weren't shown and Dorian did not get three "X"s yet the cheers were cut and the rejection was added afterward.
• The producers continually rejected songs and soundbytes for the act, making it hard to prepare.
• He and his family praying BEFORE the act was edited to look like they were consoling each after AFTER the act.
• His props were put out on stage by the AGT crew and could explain why things fell over.
Read the entire list AFTER THE JUMP…
1. Most of the magicians were comedy magicians who make quite a living at doing just that professionally. Becky Blainey has played over well at the Magic Castle with the same routine. AGT needed stuff that was "off beat" and extreme so they used that footage and purposely put it out of context. (the acts were also edited to appear as if they were in Chicago but in fact it was Los Angeles)
2. Two of the acts I witnessed personally get standing ovations but AGT saw fit to edit negative responses instead. For example, I for one did not get "3 X's" as portrayed. AGT needed something consistent with what they were trying to do. In other words, a story needed to be told, i.e. (no magicians could cut it except the Pendragons) It was nothing personal but it felt personal. I remember feeling violated somehow, lol. I got over it of course. By the way the Pendragons were incredible. I spoke to Jonathan backstage and he was very cordial.
3. For some strange reason every song or sound byte I submitted for my act was rejected, them saying that the material couldn't be released, which I understand. But this went on continuously until the day before. If you're like me I need rehearsal time when using new music. It was almost as if they wanted you to be not quite as ready as you could be, but I'm sure this was my imagination. Hmmmmmmm
4. The scene where you see me, my mom and Jerry Springer with our heads down was during a prayer before I went on stage, but the edit that NBC did made it look like we were disappointed after my performance
5. The props for some of the acts was set on stage by stage hands working for AGT which would explain my "magic guitar stand" falling over accidentally (I would agree though I should have checked this prop prior) The dove flying off was a flop but it "flew the coup" after my act was done and believe it or not I was one the magicians who did get a standing ovation. AGT edited this part out of course. And that Ladies and Gentleman is the Magic of Television. Next time "Acts", read the small print because once you sign that "disclaimer" your image and likeness there of, belongs to them. Ouch!