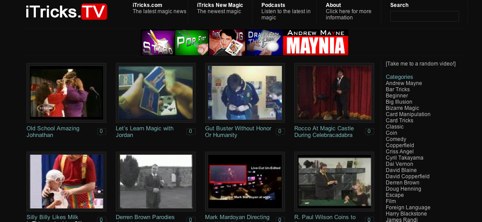 If you were to head over to the familiar iTricks.TV section of these fine web destination what you'll find is nothing less then a staggering overhaul of our massive magic video library. More visual, easily searchable, immersive.
We really hope you enjoy the changes. Let us know what you think below. By the way, if you would like to be part of the elite iTricks.TV team dedicated to finding the very best magic videos on the internet and creating the most comprehensive vault of magic videos ever… we are accepting applications: Justin [at] iTricks /dot/ com
And we aren't done with the announcements, we have something else up our sleeves as well.