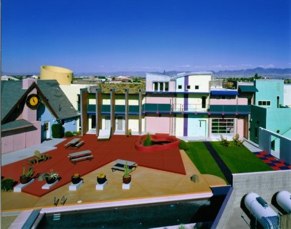 Last week, we gave you a peak inside Penn's home The Slammer, now you can win a chance to see it yourself. Head to this eBay auction to make your bid.
This is from the listing…
PENN WILL GUIDE YOU ON A TOUR of his awesome two-story desert paradise, where you'll see great things such as:

– A framed tattoo on real human skin!

– A koi pond shaped like a Goldfish cracker!

– Stunning artwork by Chicago artist Tony Fitzpatrick!

– See a unique sculpture by avant garde artist Jose Alvarez!

– A real fire pole!

– Secret rooms in his home which Penn will reveal to you!

– Liza Minnelli's panties!

– And more!

You'll marvel at each and every room as Penn tells you about his beloved Vegas home.
The auction is raising money for the James Randi Educational Foundation and the tour will take place during their Amazing Meeting event on June 21st.