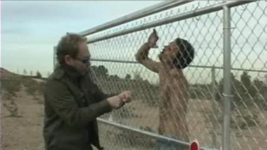 The Magic Woods has had a lingering visitor over the past few weeks and although Teller seems to feel very comfortable answering any and all questions, it's unlikely anyone is going to ask him to leave any time soon.
One of our favorite bloggers Andster even asked him about the short film we posted & Teller and this was his response…
Saw "Diary of the Dead" and thought it would be a hoot to enter the contest with my pal Ezekiel Zabrowski, a horror nut with whom I've been writing on some side projects. He brought me the core of the idea and we wrote the script in a day. The whole thing took 36 hours from start to finish.
The contest he's speaking of was held by the legendary director George Romeo and asked fans of the zombie genre to do their own short films with the best going on the upcoming DVD release of Diary Of The Dead. We hope Teller wins.