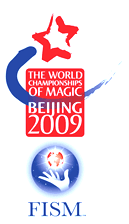 The folks behind FISM 2009, to be held in Beijing have explained the rational behind a venue change just over a year before the event's opening. In a letter to supporters they lay out why the change had to be made…
Although the firstly proposed venue National Grand Theater is spectacular and fully integrated with facilities, the theater, dealer's room and lecture room are separate and far away from each other. It is inconvenient for close supervision during the convention. There is no hotel nearby so that participants have to take bus or subway to the venue. Besides, lack of catering utilities in National Grand Theatre also brings much inconvenience to participants.
They even have an amusingly translated FAQ about the move.
Hats off to Naquada, Magic Unlimited and The Cuso who also had this.