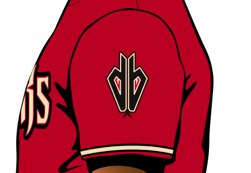 Last January we reported that a new patch on the Arizona Diamondbacks uniforms could be infringing on David Blaine's trademarked "db" logo. As teams hit the field this week for First Pitch '08, ESPN's Uni Watch says that rumor has it, Arizona altered the logo after pressure from the magician.
And in what probably ranks as the year's most subtle uni-related alteration, their snakehead "db" logo patch now has fang-like eyes (Uni Watch hears through the grapevine that this change was made after magician David Blaine complained that the logo looked too much like his logo).
To the right we have new subtle changes. Although the filling in of the eyes makes it look a little more like a snake that is made out of a "d" and a "b" as opposed to a "db" that kind of looks like a snake.
Check out the original logos and the trademark filing in our original post.
Play ball!