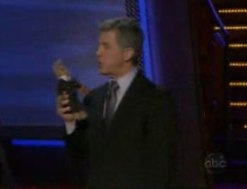 It seems like the "critics that be" have judged this year's Dancing With The Stars field and have determined it to be a tale of two casts. There are those who should be battling for the top position until the very end… and everyone else.
Unfortunately, they see Penn as everyone else.
The good news is that it means Jillette could go further in the competition since there are plenty of other non-contenders to eliminate before they get to "Bigfoot" and there is only one contestant bringing voodoo dolls on the floor for laughs.
Here are some react quotes…
TV Squad The thing is, I don't think that technique is ever going to be this team's forte. They are going to sink or swim on entertainment. It's no way to win the whole thing, but it can certainly carry them a good ways in the competition. In that regard, it was another solid outing for the pair.
Entertainment Weekly Live Blog Did Penn Jillette really break that bar? Did he really try to disappear during the judging? Did he really trip on the stairs? Did he really get a 17? Oh Kym Johnson, you'll get a contender someday soon.
ABC Live Blog Bigfoot does the quick step! Oooh, his timing was off on one of those kicks at the beginning. They're running… running… running around the floor… Not a lot of technical moves, just a lot of running. Penn just doesn't seem light on his feet, but we'll see what the judges say.
The lowest score was Steve Guttenberg but only by one. They replay last night's episode tonight at 8 p.m. and the results show airs at 9 p.m. on ABC.