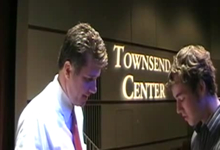 After parting ways with Criss Angel's Mindfreak series, the great Banachek has returned to the college circuit. It was on the stage of Townsend Center at the College of West Georgia that he conducted an impromptu interview with a student and Theory 11 member Matt Jones about how he started performing, how an acid stain got on the floor of a Pennsylvania mall and why Criss Angel is falsely accused of using stooges in his popular series.
Banachek is no longer involved with the A&E series after serving as a consultant through the previous three seasons. He was also involved with NBC's Phenomenon series, which Angel hosted. The reasons behind his departure have served as the catalyst for much chatter on various message boards, although he has yet (to our knowledge) talk it directly.
Also, fans of Theory 11's merchandise should scamper immediately to check out the new Bicycle Centurians which were given a surprise release last week.