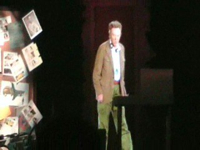 According the Orlando Sentinel (via the indispensable Wayne Kawamoto) the newly retrofit Earthquake: The Ride at Universal Studios Florida employs the Pepper's Ghost illusion to put riders in the same scene with Christopher Walken.
As a result, at Disaster! A Major Motion Picture Ride . . . Starring You!, the audience watches a projection of Walken — portraying a fictional movie director named Frank Kincaid — run onto the stage, talk to them, walk in front of, and behind, real furniture on the stage, and interact with a live actor there.

Slated for a Jan. 17 grand opening, the attraction has been open sporadically for previews during the past couple of weeks, drawing consistent, widespread wonder from employees and visitors alike, said Universal's Jeff Smith, project manager for Disaster!
The picture at right is taken from the attraction's Wikipedia page. Consider us pumped to try this one out the next time we decide to check out Universal Studios.