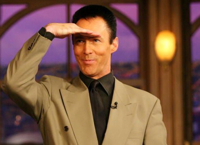 In what is likely both flattering and maddening for the currently sidelined Lance Burton, he has been a huge target for media requests in the wake the Monte Carlo fire which shut down the premises two weeks ago. According to a column by the Las Vegas Review Journal's Mike Weatherford, Burton has turned down all opportunities to speak because simply… he didn't have much to say about it.
"If he would have done a couple (of interviews), the requests would have doubled. He would have spent four days talking about the fire," (his publicist Wayne Bernath) says.

And what would the magician have talked about? The fact that he was just waking up miles away, at home in Henderson, when the fire broke out? Any tourist forced to evacuate a Monte Carlo hotel room had a more compelling story.
The rest of the column deals the the nature of performer branding at the big name casinos and is a very worthwhile read. We just hope that Lance's return date of the 13th holds and he's quickly back to expressing himself as he does best, on the stage.