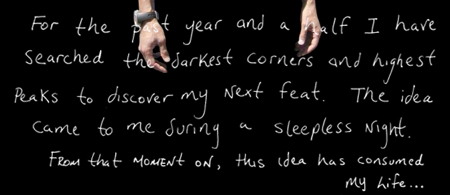 The recently remodeled David Blaine.com has undergone some tweaks, likely in preparation for his upcoming new special, including a possible first look at the name of the event. On the front page, a field asking for people to sign up for his mailing list also promises to keep fans up to date on the INSANE 2008 event.

It also features the above hand written message from October of last year, which again hints at a sleepless night for his inspiration.
A sleep deprivation stunt has been heavily rumored for months, Blaine has said his special is likely to take place in May of this year.