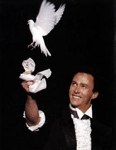 We are getting word from the Lance Burton camp that his scheduled post-fire debut of February 13th has been postponed until the 15th.
There is no word yet on exactly why it is delayed although rumor has it that either the casino or the county would like the facade of the Monte Carlo fully repaired before customers pile in.
The show has been on hiatus since a fire damaged the top floors of the casino nearly two weeks ago. We will keep you posted with any further developments.