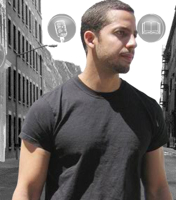 David Blaine's latest endurance stunt may have to wait a little longer into 2008.
A report surfaced today on PR Inside that Blaine is delaying his stunt and special until July or August. It was originally hoped the stunt would take place in May. According to the quotes attributed to a Blaine interview with the New York Post, he has already dropped a significant amount of weight but wants to lose at least eight more pounds and maintain before attempting the stunt.
As we reported this weekend, the name for this stunt may be INSANE. Right now his official website has no new updates.